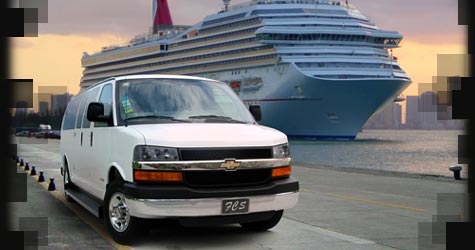 Family Car Service has the right vehicle for your cruise transportation needs, whether you are coming to a South Florida to catch a cruise departing from either the Port of Miami, or the Port Everglades located in Ft. Lauderdale. Our SUV's and Vans are the perfect solution to move large families and their luggage safely from airports to cruise ships, or hotels. You may also reserve any of our mid size, or full size busses for larger groups. FCS also provides 24 hour car services to all local, private, docks and marinas in South Florida area.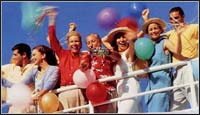 FCS provides 24 hour limousine services to or from Fort Lauderdale International Airport, the Miami International Airport, or the Palm Beach International Airport to either of the South FL seaports, the Port of Miami, or the Port Everglades. All domestic flight arrivals with inside meet and greet are FREE with most reservations! Vehicles such as SUV limos, busses and some vans are to large to be parked and can only perform curbside pick ups. If you require an inside meet and greeter in addition to a driver with any of the these larger vehicles, additional fees will be determined. All international flight arrivals with inside meet and greets require a $15.00 dollars customs fee. Your driver will always track your arriving flight number if and when trackable. All Domestic flight arrivals with inside meet & greet are given 45 min. FREE wait time the moment the plan lands, until your luggage is loaded into the vehicle. The US Customs fee covers the driver and vehicles additional wait time when a inside meet & greet is requested on arriving international flights.
All seaport pick ups require a 15.00 customs fee. Cruise ships do not usually disembarked till one hour after the vessel has docked. This US Customs fee covers the driver and vehicle wait time as you proceed through the customs process. There is no guarantee as to how long it will take to clear customs. This process usually takes 45 min to hour, but can take longer for larger parties. Vehicle occupancy may change based on luggage capacity per vehicle. For complete information on any additional costs of services, such as Tolls, Parking, Extra Stops, or Wait Time please click here.
For your safety and best experience always use properly licensed, insured operators when selecting a transportation service. Both Sea & Airports are highly well known places for illegal gypsy operators to stage and solicit transportation services. If you are relying on a travel agent, hotel concierge, valet, or porter to arrange for you and your family's transportation, make sure they are calling a legitimate legal operator. You may find more information about choosing a limo service here.
---
South Florida Seaports
Just minutes from the Ft. Lauderdale Hollywood International Airport ( FLL ) located in Broward County. FCS provides Sedan, Limo, Bus, Van, & SUV services for cruise ship transportation. Click here for more info.
Just minutes away from Down Town Miami and local South Beach hotels. FCS can provide Sedan, Bus, Limo, Van, & SUV services from any Ft. Lauderdale or Palm beach location. For more information click here
---
Related Limousine Services
Listed below are a some other transportation services that may be closely related to airport car services.
24 hour private car service for FT. Lauderdale Intl. Airport, Miami Intl. Airport, and Palm Beach Intl. Airport. Also providing transportation services to all local, private, executive, and commuter airports in the South Florida area. Click here for details.
See transportation services for Fort. Lauderdale, Palm Beach, and Miami areas .