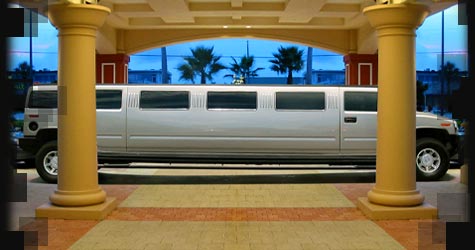 Whether it's a regular sedan for a anniversary dinner for two, or an exotic stretch limo filled with your closest friends for a birthday on Miami's South Beach, allow Family Car Service to make your experience a memorable one. We have a variety of awesome vehicles to choose from. Regular sedans, SUV's or Vans may suit your night on the town needs and are available for point-to-point transfer service 24/7. All stretch limousines require hourly reservation bookings during weekend evenings and most major concerts or sporting events.
If you're planning on dinning at any of South Florida's fine restaurants, then what better way to arrive in comfort and style in one of our luxurious stretch limousines? Perhaps after a 5 star meal you may want to check out the latest trendy night clubs on Miami's South Beach or the new Hard Rock Hotel in Fort Lauderdale. Let FCS be your designated driver for the evening and avoid any dangerous risks while driving. Don't waste your time and hassle with ridiculous traffic and parking congestion. Let FCS drop you off at the door, in style, front and center.
Looking for exciting ideas on cool places to go, take a look at our growing local Restaurant, and Night Club Limo Directory. Get names, addresses, and phone numbers of FT. Lauderdale, Palm Beach, or Miami hottest attractions. Our knowledgeable FCS drivers can make suggestions or call ahead to notify that special club of your arrival in advance.
Stretch Sedan Limos are able accommodate parties up to 10, and our stretch SUV limos will accommodate parties up to 16. Groups of passengers, 16 or more, may request party limo buses. Check out the newest fleet addition our stunningly beautiful 12 passenger Mercedes Limo Coach. Perfectly priced between the cost of a Stretch SUV Limo and a regular Stretch Sedan Limo. Never crouch or bend over getting in out out a limo again. If requested within a minimum of 2 days before your pick up, your limo can color coordinate the cocktail napkins to most color themes at no extra charge. If you are reserving a limousine for a formal occasion, please request for the driver to be dressed in formal attire.
Hourly Charter Service - There's nothing like having your own personal chauffeur and limousine at your fingertips. Our professional drivers will always be close bye and will be happy to accommodate you the moment you need them. All hourly charters or limo ADs (Alternate Destinations) are free from additional charges like extra stops or wait time. Ice & beverages are always included in the hourly service.
Passengers must provide their own drinks containing alcohol. Despite what other limousine services are illegally offering. Florida law prevents us from buying or serving you alcohol with out a liquor license. All drinks containing alcohol must be paid and brought by the passengers and be of the legal drinking age of 21.
Beverages will include a mix of regular and diet sodas and bottled water. If you have a request for particular beverage such as OJ or cranberry juice, please let us know before your service begins. Extra coolers can be stored in the trunk and are available at NO extra charge. You may provide your own drinks and ice with your extra cooler if you wish.
Point to Point Transfer Services - Ice and beverages are NOT included on limo transfer services. Ice and beverages can be added to your transfer for $15.00 if requested. We are not allowed to serve alcohol. Passengers of the legal drinking age may provide their own drinks containing alcohol. Use of our drink ware with your own beverage is a $10.00 service fee. Other additional charges are extra stops, wait time, tolls, or parking. Each scheduled or non-scheduled stop is $15.00 for stretch limousine transfers. You have 15 FREE minutes at your pickup or at your drop off, during your limo transfer. Extra wait time will be billed at $1.00 per min. If you require another limo transfer after your first we can NOT 100% guarantee the same limo will be available unless it is reserved by the hour, otherwise known as a hourly limo A.D. Limo transfer bookings are NOT accepted between the following times periods: Friday 4:30 p.m. to Saturday 6:00 a.m., Saturday 4:30 p.m. to Sunday 6:00 a.m.
---
Related Limousine Services
Listed below are a few transportation services that are closely related or may involve birthday or anniversary limo transportation services.
Paint FT. Lauderdale, Miami South Beach, or Down Town Palm Beach red with any of our vehicles by the hour. Parties up to 18 may choose our Hummer H2 SUV Limo. Transfers to and from any of the areas fine restaurants, clubs, bars, or hotels are also available in our regular Sedans, SUV's or Vans. For more information click here.
We provide corporations and individuals with transportation services to and from their special events. Larger special event transportation may include private car or limo services to any one of the major area hotels such as The Westin Diplomat Hotel, or The Hard Rock Casino & Hotel. Each special event is unique and may require a combination of vehicles to accommodate you. Click here for additional info.
Whether you need a sedan to a concert or a specialty vehicle like a stretch Hummer H2 Limo to a sporting event, choose from a variety of vehicles for your concert transportation to venues like the Bank Atlantic Center in Sunrise FL. or the Sound Advice Amphitheater in West Palm Beach. Game day transportation can also be provided by SUV's or Vans to and from Dolphin Stadium or the American Airlines Arena. Large and Midsize Buses are also available for these events. Please click here for additional info.
Bar Mitzvah or Bat Mitzvah parties are other formal occasions that may require limousine services. With S. Florida's growing Latin America community our luxury transporting services can also provide a variety of stretch limousines to accommodate family, friends, and guests to and from events such as a Quincea. Our stretch Phantom Chrysler 300 limo is always a head turner for such formal events. Please click here to learn more.
See all transportation services for Fort. Lauderdale, Palm Beach, and Miami areas .