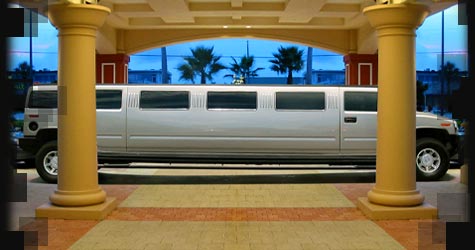 Bring on the Bling! Let Family Car Service highlight your prom or homecoming memories with safe, elegant and professional transportation to your school's events. Both Our SUV limos, sedan limos, are the most popular types of vehicles chartered for these occasions. One or two way transfers can be accommodated in our Sedans, SUV's, Vans, or Buses. These vehicles are available for hourly charters, as well.
Stretch Sedan Limos are able accommodate parties up to 10, and our Stretch SUV Limos will accommodate parties up to 16. Groups of people, from 16 up 25 passengers, may request party limo buses. Our regular mid size transport busses are available for these events as well. Check out the newest fleet addition our stunningly beautiful 12 passenger Mercedes Limo Coach. Perfectly priced between the cost of a Stretch Hummer Limo and our Chrysler 300 Limo. Never crouch or bend over getting in out a limo again.
Hourly Charter Service - All hourly charters or limo ADs (Alternate Destinations) are free from additional charges like extra stops or wait time. Ice & beverages are always included in the hourly service. Due to liability issues and Florida law, there will be NO alcohol permitted in any FCS vehicle for prom or homecoming transportation, regardless if someone in the party is of legal drinking age.
Beverages will include a mix of regular and diet sodas and bottled water. If you have a request for particular beverage such as OJ or cranberry juice, please let us know before your service begins.
Stretch limousine transfers are NOT available for these events. Limo transfer bookings in stretch limousines for Proms or Homecomings cause inconvenient scheduling conflicts for the client and FCS since that vehicle is likely be hired to transport multiple parties to and from the same event. The demand is greater for stretch limousine hourly charters, and there are simply NOT enough limousines available to perform transfers for these events.
FCS can not accept reservations from anyone under the age of 18. Only a parent or legal guardian may reserve transportation for these events. FCS drivers will be more than happy to take any special instructions from a concerned parent. Parents may want to leave multiple phone numbers for the driver to call in case of need. You may request a driver to only go from point A to point B with NO stops at any particular time. Or you may arrange a specific place for the party to stop before returning home at the end of the night. FCS and it's drivers are NOT chaperones or law enforcement officers, and will accept NO responsibility or liability for the decisions, or behavior of its passengers. We do have a strict policy concerning unruly conduct from minor or adult passengers.
For your safety and best experience always use properly licensed, insured operators and drivers when selecting a transportation service. Prom and Homecoming seasons are often when illegal uninsured operators will advertise and solicit illegal transportation services. Make sure you or child are booking with a legitimate legal operator. You may find more information about choosing your limo service here.
---
Related Limousine Services
Listed below are a few transportation services that are closely related or may involve Prom & Homecoming limo services.
Paint Fort Lauderdale, Miami South Beach, or Down Town Palm Beach red with any of our vehicles by the hour and hit the new Seminole Hard Rock Hotel & Casino, Ft. Lauderdale's hottest new night spot. Parties up to 18 may choose our Hummer H2 SUV Limo. For more details click here.
Our Mid to Full Size Busses, Vans and SUV's are often used to transport VIPs or employees to company or local events like the Ft. Lauderdale Air & Sea Show, or the popular Ft. Lauderdale Boat Show. Special event transportation may also include private car or limo services to corporate trade shows held at any one of the major area hotels such as The Westin Diplomat Hotel, or The Hard Rock Casino & Hotel. Each special event is unique and may require a combination of vehicles to accommodate you. Click here for additional info.
See all transportation services for Fort. Lauderdale, Palm Beach, and Miami areas.